What Are The Benefits of SculpSure Treatments?
4968 Booth Cir #105, Irvine, CA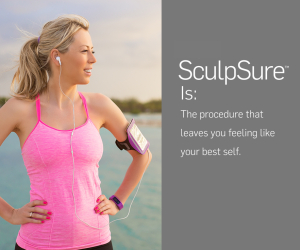 Let's face it, sometimes diet and exercise just aren't enough to move those stubborn bulges from your body. No matter how clean your diet or how much cardio you perform, you just can't seem to get rid of that fat that clings to your abdomen and flanks.
Fortunately, there's a non-invasive answer to this struggle – and you can find it right here at Song Plastic Surgery in Irvine, California!
Introducing SculpSure For Body Contouring
For clients who struggle with fat loss in the abdomen and flanks, the answer can be found in SculpSure treatments. SculpSure is the newest FDA-approved non-invasive body contouring procedure for the treatment of fat bulges in common trouble spots like the stomach and buttocks.
SculpSure uses patented laser technology to deliver heat energy to the targeted treatment area. As the laser penetrates the dermis, the fat cells are destroyed, thus shrinking the treatment area. Additionally, the body's metabolic system removes remnants of the destroyed fat cells, which provides further body contouring.
All in all, SculpSure can result in up to 25% fat cell loss in the treatment area – more than any other non-invasive body contouring treatment available today!
Your SculpSure Procedure
The SculpSure treatment only takes 25 minutes to administer, making this a highly convenient treatment for patients with busy schedules. Patients usually report feeling a warming sensation at the treatment area; many report slight tenderness and swelling that last for a couple of weeks. These side effects usually resolve on their own.
Some patients may need more than one SculpSure treatment to achieve ideal results. These results are permanent, although the procedure doesn't prevent the formation of new fat cells.
SculpSure at Song Plastic Surgery
Ready to experience the fastest and most effective non-invasive body contouring treatment available? Then it's time to schedule a consultation with Song Plastic Surgery in Irvine, California. Founded by board certified plastic surgeon Dr. Kyle Song, Song Plastic Surgery serves the greater Orange County area.