Do Cellfina Treatments Hurt?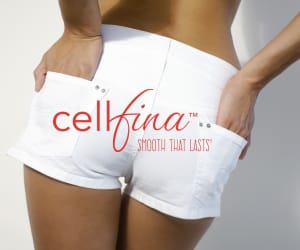 By now, you've probably heard of the latest treatment that's taking the world of cosmetic surgery by storm. This procedure is known as Cellfina – and it's the only FDA-cleared solution for cellulite on the thighs and buttocks. Cellfina promises to be a game-changer in that it takes less than an hour to perform, yet the results from a single treatment have been shown to last up to 3 years or more!
So if you've been holding yourself back from rocking those yoga pants or those adorable summer dresses, it's time to experience the cellulite-busting powers of Cellfina!
How Cellfina Works
Cellfina works by using a small needle-sized device to break up the connective bands in areas where cellulite is most prominent. Since these bands are the cause of cellulite, breaking up the bands helps minimize the appearance of dimpling so common with this cosmetic issue.
Results from Cellfina are astounding and can be seen in as little as three days; most patients reported a 95 percent satisfaction rating with their Cellfina treatment six months after the procedure. Results can even last up to three years, with more than 96 percent of patients still highly satisfied with their appearance post-procedure.
Best of all? You only need one treatment to see the incredible results from Cellfina!
Does Cellfina Hurt?
It's one of the most common questions about the treatment, and for good reason – since the procedure involves using micro-needles to break up cellulite bands, many patients are concerned that Cellfina will be painful.
Fortunately, that's not the case. Cellfina's micro-needle device is so small and fast that many patients hardly feel uncomfortable. Many patients compare it to a feeling you'd get if you rubbed sandpaper across your skin. Additionally, the procedure itself takes less than an hour, so any discomfort is extremely temporary and short-lived.
If you're concerned about discomfort during the Cellfina procedure, Dr. Song can prepare your treatment area with a topical numbing cream.
Cellfina at Song Plastic Surgery
Ready to get the smooth, dimple-free appearance you've always wanted? Discover Cellfina at Song Plastic Surgery in Irvine, California and be sure to ask about our Cellfina Concierge Program! Song Plastic Surgery services the greater Orange County area.