Skip to main content
Cellfina® is a treatment that smooths the dimples of cellulite. At South Coast Plastic Surgery, we are proud to be one of the top five practices for Cellfina, and a premier provider of the world's most effective, FDA-approved treatment for cellulite*. Our practice is a Certified National Training Center for Cellfina, and your procedure will be performed by a talented medical professional who is a leader in the field.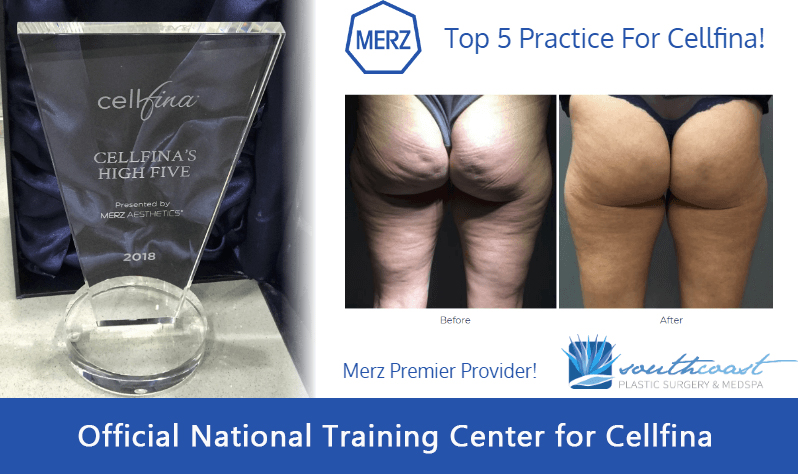 What is Cellfina?
The Cellfina system is the only FDA-cleared minimally invasive procedure clinically proven to improve the appearance of cellulite for at least three years — the longest duration for any FDA-approved cellulite treatment. Performed in our office by our qualified physician, Cellfina treats the primary structural cause of cellulite to restore a smoother, more attractive look, providing you with the confidence to reveal your skin in a swimsuit, shorts, or other revealing garments.
Why choose South Coast Plastic Surgery for Cellfina?
Our team of medical professionals is arguably the finest in the nation for this groundbreaking treatment. Every aspect of patient care matters to us, and we are here to improve your quality of life with professionally-performed, effective treatments to smooth the dimples of cellulite. You can expect to feel support, care, and an exceptional level of professionalism and personal attention. Our goal is to help you feel confident revealing your body in a swimsuit or shorts, with the treated area looking healthier and smoother.
At our private clinic, a Cellfina treatment is $4,750. Be sure to call our office for sponsored specials.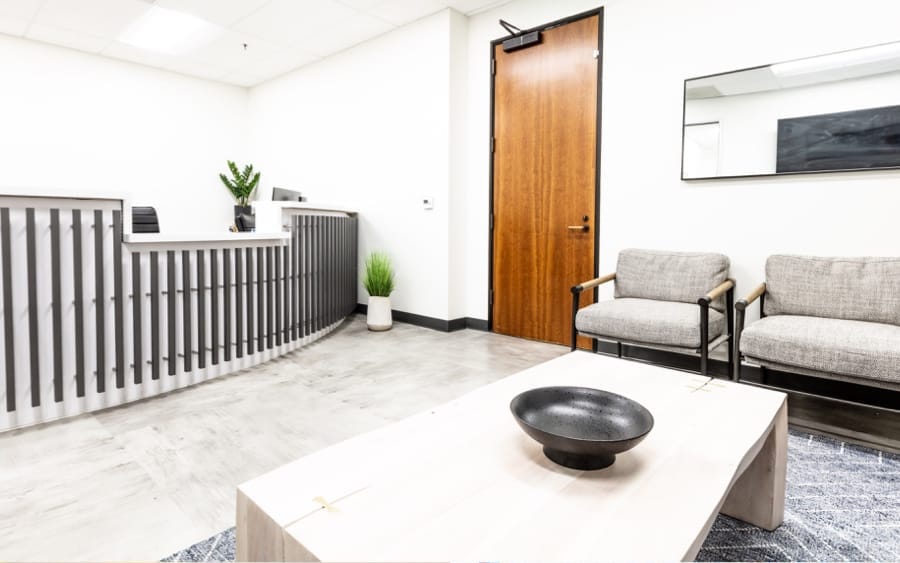 Down with dimples!
Life without cellulite is not such a stretch with Cellfina. It is the first long-lasting, minimally invasive solution proven to smooth away dimples for at least three years with a single treatment.

Clinically-proven treatment for cellulite: Cellfina in Irvine and Ladera Ranch
Patients in a clinical study showed significant improvement within three days following treatment. Three years after treatment, 100% of Cellfina patients had noticeable improvement. At three months, 85% of patients were satisfied; at one year, 94% were satisfied, after two years, 96% of patients were satisfied, and after three years, 93% of patients were satisfied. These results surpass the patient satisfaction rates of other leading cellulite treatments.
How does the
Cellfina system work?
The Cellfina system treats the primary structural cause of cellulite — the connective bands woven throughout fat in the thighs and buttocks. These tight bands pull down the skin, creating the puckering visible on the surface of the skin. Similar to a rubber band under tension, once released, the treated skin bounces back, creating a visibly smoother look.
How soon will I see
the results of Cellfina?
Results may start to appear in as little as three days and last up to three years. A U.S. study of Cellfina results revealed that the appearance of cellulite was improved in 98% of the subjects two years following the treatment.
FAQ
Does Cellfina involve cutting?
Cellfina treatments do not require general anesthesia. It relies on a minimally invasive, small needle-sized device to treat the cellulite-causing bands just beneath the surface of the skin. The device creates a small puncture in the skin, which heals to being virtually invisible over four to six weeks.
How long do results last?
Patients in the pivotal study showed significant improvement shortly after the treatment, with results lasting at least five years, longer than any other FDA-cleared cellulite treatment.
Are there any side effects?
No serious adverse events were associated with Cellfina in the pivotal study. The most common side effects reported by patients were soreness, tenderness, and bruising. Just three days after treatment, patients rated their pain as minimal (2.7 on a scale of 0 to 10; 0=no pain, 10=extreme pain), and most (82%) felt pain only with touch or pressure to the area treated. This minimal pain improved quickly with time. More than 90% of patients had no bruising at four weeks.
Will I need to take time off?
There is limited downtime associated with Cellfina. Some patients experience initial soreness and tenderness, but these side effects resolve quickly. It is common for most patients who are treated on a Thursday or Friday to return to work on the following Monday.
What our patients are saying about Cellfina
Erin H.
On the day of, his staff made me feel at ease, and the procedure itself was virtually painless. Afterward, I was able to drive myself directly to my son's littl...
Kim L.
It seems the older I get, the more cellulite that I have. I was embarrassed about this and didn't want to wear shorts, let alone a bathing suit. I had searched ...
Jen C.
I can't say enough great things about Dr. Mark Song and his staff! Not only were they incredibly attentive and thoughtful but genuinely respectful and passionat...
Tawnya M.
I recently had the new Cellfina treatment through Dr. Song- First off, the procedure was quick, relatively painless, and so far, the results have been amazing. ...
Sara A.
Cellfina…honestly sounded too good to be true. A quick and long-lasting treatment to get rid of those not so cute dimples? Yes, please! No major discomfort. To...