Fat Transfer vs. Breast Implant Augmentation? Which one is a more effective means of enlargement?
Breast augmentation using autologous fat transfer is generally considered a more natural alternative to synthetic breast implants. Fat transfer is slowly gaining acceptance in the US, and clinical studies examining the safety and efficacy are ongoing.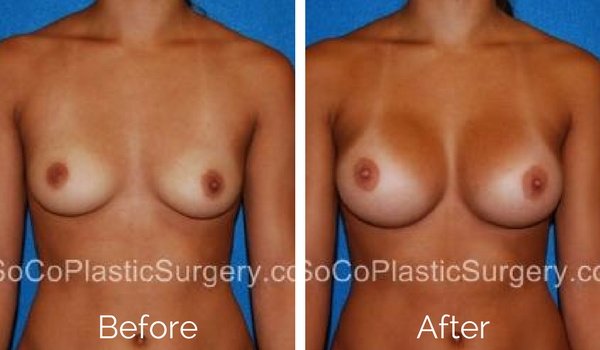 In terms of effectiveness, there has been some concern about the consistency of the results obtained with fat transfer. With breast implants, you can choose the shape and size implant you want, and based on your selection, the final size is assured.
However consistency is not guaranteed with fat transfer, because portions of the transferred fat will be reabsorbed by the body. Since this can occur, it's difficult to determine the exact degree of enlargement that will take place.
Knowing this, some surgeons choose to add more fat than they think they need. However this can cause other problems, since it's not possible to predict how much fat will survive. If too much fat is injected and most of it survives, the results will not be uniform. In some cases patients complain that their breasts look lumpy and uneven after fat transfer, and this is often the reason why.
If you are considering fat transfer for breast augmentation, consult a board certified plastic surgeon experienced with both techniques. Very often the result of surgery depends on the skill and experience of the surgeon. During consultation your surgeon will review the pros and cons of both methods, and arrive at a decision based on your aesthetic goals.
As you can see, there are so many benefits to choosing implants over a fat transfer breast augmentation surgery. If you have any additional questions about these procedures, schedule a breast augmentation consultation with Dr. Kyle Song at Song Plastic Surgery in Irvine, California. Call (949) 701-4454 for more information.