New to South Coast: Ultherapy for Skin Tightening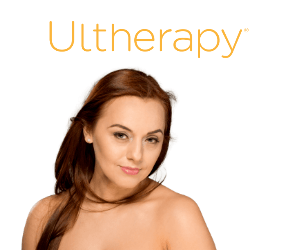 South Coast Plastic Surgery is pleased announce the arrival of Ultherapy – a non-invasive treatment designed to tighten and tone loose skin!
As we age, skin begins to lose that elasticity and firmness that define youthful skin. Collagen and elastin – two essential building blocks to firm skin – begin to break down, resulting in loose and sagging skin. This effect is especially noticeable in the face, neck, and décolletage, where loose skin can highlight jowls, hide the jawline, and even lead to the development of wrinkles that resemble crepe paper.
How Does Ultherapy Help?
Ultherapy works by using the power of ultrasound energy to stimulate collagen and elastin production within the skin. Unlike laser treatments, which only treat wrinkles and fine lines located on the superficial skin level, Ultherapy penetrates the surface layers to the deepest foundational layer of the skin. When this foundational layer is exposed to the energy, it kick-starts collagen and elastin production.
The end result? Your skin looks fresher, younger, and firmer – not to mention cellular turnover is much faster!
The number of Ultherapy treatments you'll need to get your best results depends on your skin laxity, as well as your desired results. Most patients see results with one treatment; however, some patients opt to repeat the treatment six months later to enhance results.
Who Benefits From Ultherapy?
Ultherapy is ideal for clients who want to avoid the expense and surgical risks associated with the traditional facelift. While results aren't identical to the facelift, Ultherapy can help improve the appearance of loose and sagging skin, especially around the neck and jawline.
While Ultherapy was designed for treating skin around the face and neck, it can also be used to treat loose and sagging skin around the arms, elbows, knees, legs, stomach, and other trouble spots. Ultherapy is a great non-surgical option for skin tightening on the buttocks area by tightening the skin and lifting the area.
Younger patients may also want to invest in Ultherapy treatments now to prevent skin from sagging in the first place. At South Coast Plastic Surgery, clients in their twenties and thirties are raving about the preventative benefits of Ultherapy treatments.
Ultherapy at South Coast Plastic Surgery
To learn more about Ultherapy and how it can tighten your skin, schedule your consultation with South Coast Plastic Surgery in Irvine, California today. Call 949-701-4454 to learn more.